I always mean to start these "end of the year" posts early, I really do. I write lists, mentally-plan photo collages, and inevitably get caught in the whirlwind that is the end of any year. Le sigh. Well, you know what? I'm here now and you're going to read the best of Vina's 2008. Sorry it's such a long one but hey, at least it's only once a year!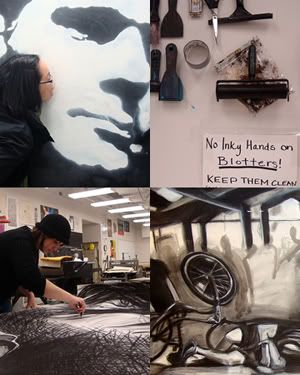 Ar
tsy Fartsy Things.
- Spent 3 weeks drawing a guy who ate pavement on a sheet of rag paper that was five feet by 3 feet. Went through a plethora of charcoal which may or may not have given me the black lung for awhile.
- Took a printmaking class and discovered that litho ink never comes out of clothes, mineral spirits make you a little bit high, and it's probably not a good idea to wear white.
- Met some awesome people and feared for Shanime's life a little bit as she continuo
usly poked the bear. The bear being Chris.
- Got a little fresh with Jack Kerouac.
Lists
You have no idea how much I enjoy list-writing. I write lists for things I've already done just so I can cross it out. Grocery lists. "What to pack" lists. "Possible outfits for ___ occasion" lists. "Marathon Drawing ideas". "Things to do" lists. There's a multitude of little notebooks for different lists. Red telephone book from Stephanie is for recipes & dinner party menus. Black spiral recycle notebook from Thrib for everyday "things to do" and "what photos to upload" lists. Gray moleskin notebook from gopher to carry around at all times.
Damn! List writing is the shit, boyyyy.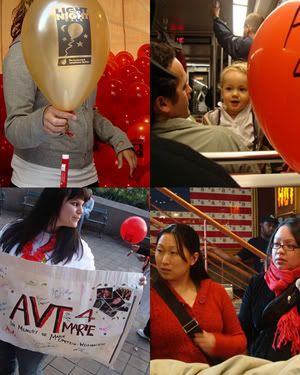 AVT4Marie
The AVT crew raised over $2000 for the DC "Light the Night" charity walk in honor of our dear friend Marie. There were red balloons a-plenty, free chili, dancing to Shout! and Love Shack, and a last-second mad dash to the finish line. Nasreen jumped onto the metro by herself, haha! We all wore red! Jenn joined a teenage dance circle! In the end, despite the chilly weather, we all came together and walked.
For the cause and for our friend.
Google Reader
Holy hell, I love Google Reader. It makes the blog reading a helluvalot easier.
Blogs that I enjoy the most:
Orangette
Stereogum
People Food
DCist
David Leibovitz
Overheard in New York
Nordljus
There are countless others but they're all basically food, washington post, music, art and (don't think less of me) wedding blogs.
Cupcake love.
2008 was a pretty big year for cupcakes. Steph's love for cupcakes just washed over the entire crew and many a cupcake was made, bought, or eaten; which my tastebuds loved, my hips not so much.
Cupcake bakeries just started popping up all over the DC/VA area. There's Cakelove (I'm sorry..
wait
5 minutes before eating?!), Georgetown Cupcake (meh, whatever) andddd my own cousin's
Chateau Gateau (insert shameless plug).
Fighting the fat
and Beating the Bulge
Not the best topic to sandwich (oh god, I said 'sandwich') between cupcakes and food but I managed to lose over 30 pounds this year. Started eating breakfast every morning and stopped eating late at night. I went to sleep regularly (maybe not during that damn maratho
n drawing) and exercised plenty. The elliptical machine is my friend. I ate a banana every day for about five months en route from campus to gym. Technically, I've dropped two dress sizes but for the most part am wearing a lot of the same clothes. I see the same people at the gym every day but am only on speaking terms with some of the employees. Seeing them in real life it would be like seeing your elementary school teacher at Giant. Holy shit, they exist outside of the gym?! Madness.
The Stork paid a visit and....
I got a new cousin. Maela. Souknanda in France aside, Maela is the only girl cousin I have amongst a sea of Sananikone boys. She's this adorable little thing who enjoys chande
lier lights and falling asleep at the dinner table. Maela became my hero when she spit up on a monk. Her eyebrows turn bright red when she's mad. I have a feeling that she'll have no problem keeping up with her big brother Kai when she's older. This I absolutely cannot wait to see.
Podcasts
One rainy day, I rediscovered the joy of podcast subscribing. I highly recommend:
Tara Stiles Yoga- Pretty and one of the few yoga instructors that doesn't make you want to shoot someone.
Crash Test Kitchen- This Australian couple's playful and witty banter is HILARIOUS, as are their video titles: We did it all for the Gnocchi, Pasta Fire Extinguisher, or Froth my milk up.
NPR podcasts: All Songs Considered, Live Concerts from All Songs Considered, Satire from the Unger Report, Most-emailed Stories, Food, and Second Stage.
Coffee Break French- (re)Learning how to speak French from a Scotsman. How fun! No, really.
This American Life- Stephanie got me hooked to CPR's Ira Glass.
Out-n-about Cubscouts!
I seemed to go out a lot in 2008. Granted, it was probably only to Cafe Asia and I saw the same crowd each time but still. Me and nightlife aren't quite likethis. Why?
A. The avtcrew enjoys things like movie nights, board games, potlucks and picnics.
B. Half of the time I'm too lazy to doll up, don heels and trek to Clarendon.
On the
flip side, I always have great fun when I go. Winner Circle (and all that goes with it) are such a fun-loving bunch and I enjoy being around (and taking photos of) their camaraderie. Boui and his random rants about douchebag v-necks. "Saving" Calvin's life (all I did was prop him up a few times and give him a leg to use as a pillow). Utilizing most excellent hairtography with Liem. Potato salad & Sangria with Stella and Sohe as well as hearing about their drunken
antics such as public urination and chain-reaction vomi
ting.
The Election
Cmon, now. Virginia voting blue? Don't tell me
that's not mind-blowing and this is coming from a gal who isn't much for les politiques. Inauguration next week!! Side note, here's a fun story about Obama that I read in DCist.
Love and All That Mushy Stuff
2008 was the year for love. Not for myself, thanks for reminding me, but many of my friends and family. Engagements and weddings galore. No worries, I'm not bitter, hahah. Barbie and Matt got engaged. I was priviledged to be asked to take photos for Steph's cousin's wedding. That was fun although technically I wasn't supposed to be on the altar with them. Whoops! Oura and Steph (L., not T.) got married in a toy store which was so them. Their wedding was one of the cutest and sweetest weddings ever. Watch the video so you can see and go "awwww". Phoebe and Derrick also got engaged but technically it was 2009.
Yeah. That's about it. I'd write the whole "things to look forward to in 2009" thing but it's damn near four AM and I'm sleepy. Luff yoo guys. Will edit in the morning.